Best Restaurants in New Carlisle, OH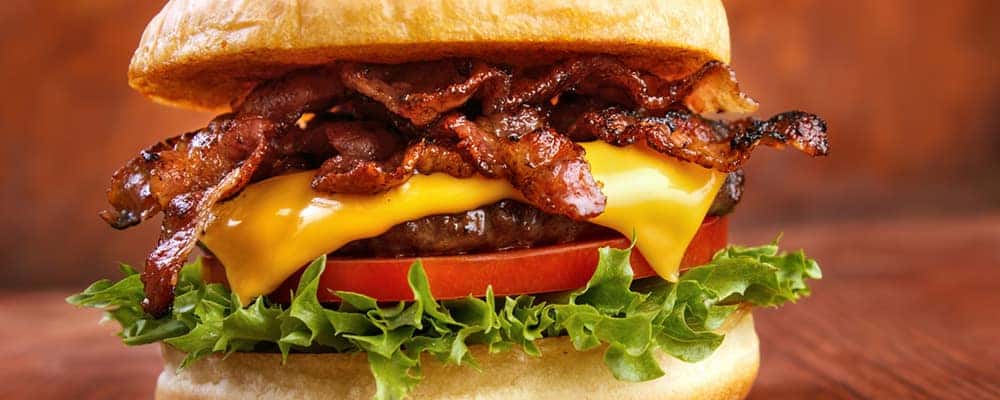 Are you located in Dayton or Springfield and looking for a great nearby restaurant for your next date night? Or, maybe you're visiting from out-of-state and looking for a family restaurant that serves the best food New Carlisle has to offer. No matter the case, if you've found yourself around New Carlisle and want to eat some delicious food, New Carlisle Chrysler Jeep Dodge Ram has you covered. Discover three of our favorite restaurants in New Carlisle, including 571 Grill & Draft House, Studebaker's Family Restaurant, and Rancher's Roast Beef.
571 Grill & Draft House
Prominently featured on TravelPulse.com's list of '6 Best Places to Grab a Burger in the Midwest,' the first stop on our list is a local favorite, 571 Grill & Draft House. Obviously, 571 Grill is perhaps best known for their to-die-for burgers, including their specialty Mac Daddy and 571 Haystack burgers — but this New Carlisle restaurant is also remarkable for its friendly service, craft beer selection, and a full-size menu of non-burger delicacies.
Studebaker's Family Restaurant
When you're looking for an affordable, homestyle cooked meal in New Carlisle, you should look to Studebaker's Family Restaurant, which is located right on Main Street. This local staple in the community serves all-day breakfast and has full-size lunch and dinner menus, as well as a rotating list of daily specials. There really is so much to pick from when you go to Studebaker's, so even the pickiest eaters in your family can find something they'll enjoy.
Rancher's Roast Beef
For when you want a speedy, cheap bite to eat, this New Carlisle fast-food joint is a favorite among many local residents. Rancher's Roast Beef is perhaps best compared to national fast-food chain Arby's, but the friendly staff, tasty food, and homestyle environment give Rancher's a much better score in our book. Rancher's quickly serves up everything from fries to milkshakes to, of course, roast beef sandwiches, and you really can't go wrong with any menu option.
Discover New Carlisle, OH with Your Friends at New Carlisle Chrysler Jeep Dodge Ram!
No matter where you're coming from, be it Tipp City, Huber Heights, or beyond, with an emphasis on great service and better food, New Carlisle restaurants have something to offer everybody. So be sure to check out one of the above restaurants, and for more local content like this, you can discover our favorite drive-in theaters and other summertime activities near New Carlisle, as well as the best off-road trails in Dayton, OH.